ROBIN RECOMMENDS: COLLECTIBLE BOOKS WITH KID AND PARENT APPEAL
I recently turned up a host of super cool books for kids….that would intrigue moms and dads as well…..and I have to share….I highly recommend all!
The editors at Sports Illustrated Kids, the most respected sports news information resource for children and families, have launched the first kids title of its kind to rank top athletes, playing fields, rivalries, games, controversial calls, memorable moments and more. The Top 10 of Everything in Sports ($11.99), sold at Sikids.com/top10 and at retailers nationwide, includes the 30 Top 10 Lists covering every professional sport.

For The Top 10 of Everything in Sports, the editors of Sports Illustrated Kids set out to create authoritative and comprehensive sports "top 10" rankings that would spark conversation among sports fans of any age. Rankings were decided on through debates and brainstorms amongst a panel of Sports Illustrated Kids' editors and staff. 

Select highlights of the top 10 lists include:

·         Greatest Athlete: Michael Jordan tops the list, with Muhammad Ali (#2) and Wayne Gretzky (#3) not far behind.
·         Clutch Performances: Joe Montana's game-winning drive in the Super Bowl not only sealed the win, but also the #1 spot on the Clutch list.
·      Sports Rivalry: Foes for more than 100 years, the Yankees and Red Sox have the most heated rivalry in sports.  North Carolina vs. Duke (#2) and Boston Celtics vs. Los Angeles Lakers (#3) round out the top three.
·        Records: Joe DiMaggio's 56-game hit streak remains one of the greatest and most difficult to break.  Wayne Gretzky's 215 points in a season comes in at a close second.
·         Fans:  Don't mess with the Oakland Raiders' faithful, who frighten opponents from the south end zone of O.co coliseum, known as the Black Hole. Alabama Crimson Tide (#2) and Pittsburgh Steelers (#3) round out the top 3.
Additional Top 10 lists include championship games, stadiums, sports movies, controversial calls, unbelievable moments, strongest arms, athlete-actors, signature looks, logos, celebrations, nick names, prodigies, coaches, underdogs and sporting events, among others.
 The Top 10 of Everything in Sports is the latest title in the best selling Sports Illustrated Kids List Series and offers a comprehensive, yet fun look at the greatest aspects of pro sports.  Filled with trivia, thrilling action photos from Sports Illustrated, and the insider knowledge of Sports Illustrated Kids, the book will spark conversation and interest in children and families around the world.
 
 ………………………………..
Full of more than 1,000 fascinating facts, Big Book of Why: Crazy, Cool, & Outrageous answers the many questions kids like to ask. Presented by Time Home Entertainment Inc. and the editors of TIME For Kids, Big Book of Why: Crazy, Cool, & Outrageous (Time Home Entertainment Inc.; $19.95) is on sale now and available at timeforkids.com/whyand at retailers nationwide.
This book is a follow-up to the first Big Book of Why, which has sold more than 150,000 copies to date. With 192 pages of new content, Big Book of Why: Crazy, Cool, & Outrageous is divided by subject area – the human body, animals, nature, the Earth, space, science, technology, transportation, U.S. and world history, world culture, arts and media and sports and games. Each answer is accompanied by either a photo or illustration.

Sample questions and answers and crazy, cool and outrageous facts include:

Human Body

Q. Why do I have nightmares?
A. Nightmares are just scary dreams. You might get them because your body is relieving stress, you are ill or you experienced something scary when you were awake.

Animals

Q. Why are so many people afraid of spiders?
A. We're not born afraid of spiders. It's something we learn. Some scientists think humans are naturally worried about animals that move quickly, as spiders do, and the fact that some spiders are poisonous certainly adds to the fear factor.
Earth:

Q. Why are oceans blue?
A. Beauty – and color – is in the eyes of the beholder. The light we see is made of many colors at once. Ocean water absorbs colors like red and orange, but blue wavelengths are reflected, making the ocean appear to be blue. Other colors in the sea come from plants, dirt and pollution.
Science:
Q. Why do people cry when they cut onions?
A. Cutting onions releases a gas that mixes with the water that's naturally in our eyes. Together, they form an irritating chemical. Our eyes produce tears to wash it away.
World Culture:
Q. Why do some countries still have kings and queens?
A. Until the late 1700s, nearly every nation was led by royalty. Since then, however, most nations that were run by monarchs have turned to a more democratic system. In Britain, for example, the kings and queens were powerful rulers until the Reform Bill of 1832. Now the royal family performs mainly ceremonial duties.                       
………………………………..
What are the five most popular names for dogs? What are the five oldest baseball stadiums? Who were the five youngest United States presidents? The answers to those questions and dozens more are found in the new book Top 5 of Everything, presented by Time Home Entertainment Inc. and the editors of TIME For Kids. The lists featured in the book cover every topic, from animals, sports, technology, food, people and entertainment. Top 5 of Everything (Time Home Entertainment Inc.; $11.99) is on sale  at timeforkids.com/top5 and retailers nationwide.
The 144-page book for ages 8 and up is based on TIME For Kids' most popular feature: the TFK Top 5. Similar to the magazine version, the lists have amusing and colorful illustrations accompanied by information at a glance.
The book features more than 100 lists, including the following topics:
·         The hottest planets in the solar system
·         The baseball players with the most home runs
·         The fastest roller coasters
·         The most popular dog breeds
·         The biggest spiders
·         The longest spacewalks
·         Kids' favorite toys
Sample lists include:

Top 5 Cereals with the Most Sugar
1.      Kellogg's Honey Smacks
2.      Post Golden Crisp
3.      Kellogg's Froot Loops Marshmallow
4.      Quaker Oats Cap'n Crunch's Oops!
5.      Quaker Oats Original Cap'n Crunch
Top 5 All-Time Favorite Toys
*Based on a poll of 20,000 people
1.      G.I. Joe
2.      Transformers
3.      Lego
4.      Barbie
5.      View-Master
About TIME For Kids
TIME For Kids is a weekly classroom news magazine that motivates kids to read! Issues cover a wide range of real-world, and topics in the news kids want to learn about. A powerful teaching tool, TIME For Kids builds reading and writing skills.
………………………. 
Some artists build with stone. Some create with canvas and paint. But a growing number are creating breathtaking works of art using an unexpected medium: plastic LEGO bricks. And the results are impressive as demonstrated in a new, full-color, gorgeous coffee table book, Beautiful LEGO by Mike Doyle (No Starch Press, $29.95, 280 pp., October 2013, ISBN 9781593275082).
The book's cover draws in readers with a stunning photo of Doyle's city of Odan: a 6 foot tall model that took over 600 hours to build and uses over 200,000 LEGO bricks. Inside, readers will find the work of 77 artists and nearly 400 LEGO models. Creations span the full range of LEGO artistry, from the silly to the sublime, from portraiture to sculpture to architecture. There are pop culture portraits like Freddie Mercury and Monty Python, models of dissected frogs, a dilapidated Victorian house, monsters and aliens, cube shaped people, famous and fantastical buildings, and complex mosaics. 
About the Author
Mike Doyle is an internationally acclaimed LEGO artist known for his stunningly realistic, grand-scale designs. Contact, the majestic fantasy cityscape featured on this book's cover, uses more than 200,000 bricks. His award-winning Abandoned House series has been showcased at Gallery1988 in LA and now has a home in Boston's Museum of Realist Art. When not constructing unique LEGO art, Doyle works as a graphic designer. He lives with his wife and two children in New Jersey.
 Sample Pages from Beautiful LEGO
<
LEGO® MINDSTORMS® EV3, The LEGO Group's newest robotics kit, combines mechanical elements and motors with a programmable brain to allow users to build, program, and control real working robots. This latest version of LEGO MINDSTORMS has far more capabilities than previous versions, making it possible for anyone to develop and create sophisticated robots. But with so many possibilities, it's hard to know where to start.
The LEGO MINDSTORMS EV3 Laboratory (No Starch Press, October 2013, 432 pp., $34.95, ISBN 9781593275334) offers an in-depth guide to the many features of the new EV3 kit. Author Daniele Benedettelli, robotics expert and member of the LEGO MINDSTORMS Expert Panel, digs deep into the potential of EV3, while also teaching the fundamentals of robotics. Readers learn how to use gears, beams, motors, sensors, and programming blocks to create five impressive robots, including a bipedal dinosaur and a multi-purpose vehicle that can even clean the floor.
But the book doesn't stop with just building and programming the robots—Benedettelli also dives into technical topics like refining robot movement, dealing with measurement noise, electronic versus mechanical differentials, even implementing robot behaviors using state machines. "The EV3L Scientist's Apprentice" comic story keeps things fun, while "Experiment" sections will have readers modifying the robots. "Digging Deeper" sections go into advanced topics like robot localization, handling errors, and motor speed regulation.
The LEGO MINDSTORMS EV3 Laboratory book trailer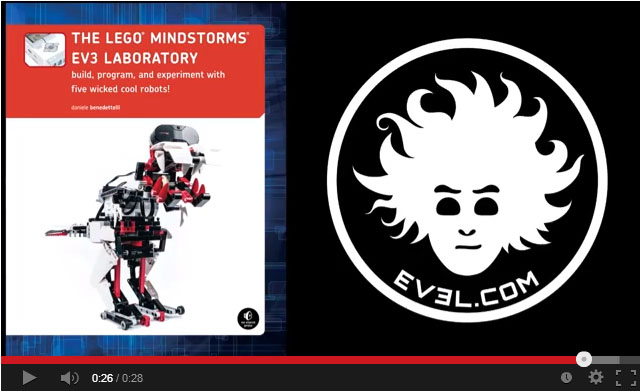 About the Author
Daniele Benedettelli is known worldwide for his original LEGO robots, including his Rubik's Cube solvers and his humanoid robots. As a LEGO MINDSTORMS Community Partner (MCP), he helps to test and develop new MINDSTORMS products. He earned a master's degree in Robotics and Automation from the University of Siena in Italy. He holds educational presentations and workshops on Information and Communications Technology around the world and teaches robotics at the high school level.
Available in fine bookstores everywhere, from http://www.oreilly.com/nostarch, or directly from No Starch Press (http://www.nostarch.com, orders@nostarch.com, 1-800-420-7240).
About No Starch Press
Founded in 1994, No Starch Press publishes the finest in geek entertainment. Our titles have personality, our authors are passionate, and our books tackle topics that people care about. No Starch Press titles have won the Grand Prize at the San Francisco Book Festival and the Independent Publisher Book Award (the "IPPY") from Independent Publisher.
About O'Reilly
O'Reilly Media spreads the knowledge of innovators through its books, online services, magazines, and conferences. Since 1978, O'Reilly Media has been a chronicler and catalyst of cutting-edge development, homing in on the technology trends that really matter and spurring their adoption by amplifying "faint signals" from the alpha geeks who are creating the future. An active participant in the technology community, the company has a long history of advocacy, meme-making, and evangelism.
Note: Thanks to the featured publishers for providing review copies.
Tags: adult books, books for kids; good reads for children, childhood, children, collectibles, midlife mothers, motherhood later, parenting, raising a reader